Shows: 02.04.08
Monday mornings I'm on the air sharing more stories about how people are living better through computers. I'll tuck field notes from those shows right here. You'll also be able to dig into the archives to explore previous shows as I determine how best to share some of the highlights of the past 8 year's worth of adventures.
Monday, February 4, 2008
Supercharged Home Offices: Mobile, Collaborative and Free!
Whether you're a senior looking to rejuvenate a lifelong career, someone facing the loss of your job, or simply itching to breath a little entrepreneurial spirit into your life, you might find yourself in the company of many clever people looking for practical and inexpensive ways to reinvent themselves with the help of the net. The web can be a powerful way to kick-start a new career, and you don't have to spend a bundle to do it.
During the next few columns I'm going to take listeners through the steps of finding a new calling, identifying markets, collecting the best free tools, and starting up a home office through their personal computer. I'll be sharing some of the web's best kept secrets to help virtually anyone set up an instant home office with tools that rival the pro's, without spending a dime. From the untapped power of wikis, Google notebooks and docs, calendars and a handful of truly savvy collaborative tools, you can turn your know-how into a personal business, tapping into instant markets, connecting with customers, and collaborating with allies who can give you a presence much bigger than yourself.
If you caught today's show, you may be here to find out where you can pick up an instant "basecamp" to start brainstorming your reinvention. I shared a few web sites where you can connect with other people who have faced this challenge before and who have some truly useful tips to share. I offered a heads-up on a free calendar to keep yourself on track, and even free office software for budgeting and planning. The best part? There's no cost. The tools are simple to set up and use, and will give you a good foundation to lay the groundwork for a very powerful home office. Here are the highlights from today's show, with links to the resources I shared: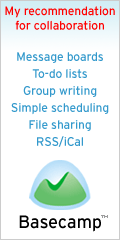 What kind of tools might people pick up to help them start to lay the initial ground work for a home office, and where can I find them?
Are there places where I can connect with others who have gone through a job loss and/or who have reinvented themselves, and who might have some tips and advice to offer?
Resources:
Allies, Mentors and Online Communities:
Here are a few online mentors and communities that are terrific resources for people looking for allies as they reinvent themselves:
What's on Deck?
In the weeks ahead I'll share a suite of free mobile apps you can tuck on your flashdrive to take your office with you anywhere you go, and a handful of other tools to set up your marketing, your customer base, and even collaborative partnerships to help you tap into opportunities that require manpower and skills beyond your own.
I'm excited about sharing these things because they are all tools and sites I have used myself. They are easy to use, they have no cost attached, and they rival the power of name-brand applications that cost thousands of dollars to set up.
It's a great time to reinvent! The internet gives us a very powerful, accessible and vital network of tools and allies to help us thrive, be resilient, adaptable and happy in our chosen new niches. Stay tuned for more ways to plug in …